In the dilemma of choosing between a hot tub or a swimming pool? The swim spa tub is a relaxation and leisure area, smaller than a pool and equipped with massage jets.  On the other hand, the pool allows you to swim, play, and cool off during the hot summer weather.  Therefore, these two have little in common and are not intended for the same use. So, what to choose: a small hot tub or a pool? Here are some tips to help you make your choice:
What's The Purpose of Swim Spa Tub?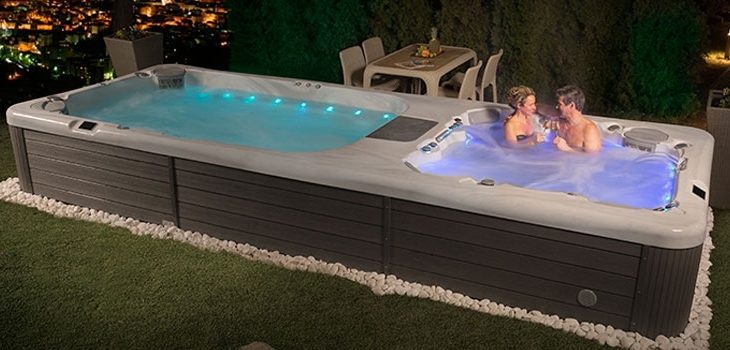 The hot tub and the pool are completely different pools. The swimming pool and jacuzzi hot tub do not offer the same benefits and work differently. It is essential to know their specificities before making your choice and embarking on a purchase.
Let's start by taking an interest in the small hot tubs. It is available in different sizes, embellished with massage nozzles and massage jets. The temperature of this hot tub is generally between 28 and 32 ° C. It allows you to relax in the bubble bath or the whirlpool after a tiring day or gym session.
Note: Some swim spa tub are divided into two distinct spaces: one of the sides is a relaxation space, and the other is for intensive swimming. The second part is suitable for people wishing to practice water aerobics, swimming, or fitness. 
On the other hand, the swimming pool is a large heated or unheated pool. Inground, built-in, or above ground, it is recommended for large families and big houses. It allows you to practice swimming and water sports with your family as it is suitable for all types of swimming.
Now, as you know about their individual specifications, think of your purpose and choose the one that serves it best. 
Think of Your Budget  
The price of a swim spa tub or a swimming pool is quite variable. It depends on various factors like the size of the swimming pool, filtration pump, heater, LEDs, hydromassage jets, water sanitation programming system, taps, drainage system, and equipment. The cost of swim spas is between £4,595 to £20,000 in the UK. Conversely, the price of a swimming pool starts from  £10,000 and goes up to  £50,000 and more.
Each swimming pool or swim spa model has a special price: a counter-current swim spa, for example, may be much more expensive than a conventional swim spa. Similarly, a swimming pool is more or less expensive depending on the materials used (polyester, plastic, acrylic) and the type of basin chosen. So, there are also cheap hot tubs available in the market and costly too. The same goes for pools.
Note: The price of installing a pool is higher than that of a hot tub.
Examine Your Available Space
You must choose between the swim spa or the pool depending on the space's configuration where you wish to install them. Obviously, a pool takes up much more space than a swim spa. However, it also depends on the type of pool chosen: an inflatable mini pool takes up much less space than a shell pool.
The goal is to keep a suitable outdoor space to enjoy your swimming or spa session. Do you have a very large garden? You can opt for a swimming pool. Is your exterior small? Opt for a swim spa as they save space. 
Final Words
 As you can see, the swim spa and the pool are difficult to compare. Their functions, their prices, and the space occupied by these pools are totally different. Also, their use differs completely: the swim spa is both a jacuzzi and a small pool, while the pool is reserved for swimming and water games. You are now ready to make your choice!
Related posts
Things Girls Like for Valentines Day but won't Say
Valentines Day Has your girl ever said to you even once 'I don't know what I want,  just surprise me', then mind you she has a list of things she expects you to do? If she has said so to you, know that you have…
Here Is All You Need to Know About Daycare Nurseries for Kids
Once you become parents, life changes in many aspects that we had never imagined. A kid brings happiness and a lot of responsibilities altogether. These responsibilities gradually increase as he/she grows up. Once your child starts crawling and starts showing curiosities to different things around…